This is a collaborative post. 
2018 was the year I got a *little* tattoo obsessed, I started the year with 4 tattoos and I am coming up to the final month of the year with 11 tattoos. I met a tattoo artist called Heather at a local studio: Blacktide Collective. Heather created the images exactly how I imagined, she got my visions and had some beautiful pieces of flash that needed homes. I even got two of my bunnies tattooed on me in the summer by Heather. I recently wrote a piece called what does your tattoo mean and it made me realise how many of you guys have tattoos. A lot of you like me have gotten a variety of tattoos you love and have done since day one. Some of you have huge pieces planned out and others have gotten them on a whim. There is no right or wrong way to decide on a tattoo. Unfortunately with the good comes the bad, some of you have designs based on ideas you loved and they didn't turn out how you imagined (que just about any tattoo programme on channel 4 or 5, ever) and some of my readers have even got their partners name which has then turned into being an ex. 
Some people play it off and try to love what they have, I've even seen a story about a guy who is currently on the lookout for a girlfriend with the same name as his ex so he feels less bad about his tattoo. But for those of you who can't stand your tattoo and need it gone, tattoo removal may be your only option. As someone who has a lot of tattoos, luckily none of them are ones I regret and I hope I never do. But if a tattoo of mine in the future did go wrong I feel like laser removal would be an option I'd consider. I decided to reach out on social media and see what others are saying about their tattoos. 
I have 3. One is a Playboy bunny (classy chick) and another is two dragons on the back of my neck. The 3rd is a mess that I let my ex-do on me. It's a star on the bottom of my leg. NEVER let someone else tattoo you for love.
"I got my tattoo when I was 18 years old – my first and only – a quote that reminds me every day to make my life a story worth telling. I always thought I'd regret it but it became so apt as I grew into the person I am now"
My favourite tattoo is the one I got most recently as it means the most. Its lyrics from my favourite song by my favourite band that have stuck with me for over a decade, and the tattoo is by an incredible local artist who specialises in abstract watercolour, so it's really beautiful!
"

My first tattoo was when I was 18 & it's three little bats on my ankle which now look silly as hell. My parents didn't find out till years later when I had like 10 others. Felt like a little rebel doing it & it's probably my worst one but hey lesson learnt & memory made"
My back piece is my favourite tattoo, featuring the Buddhist Goddess Tara. It's not finished yet, but I had it started during a hard time (PTSD following an assault). Tara embodies compassion, which I really needed. Strangely, the man who attacked me was arrested that day!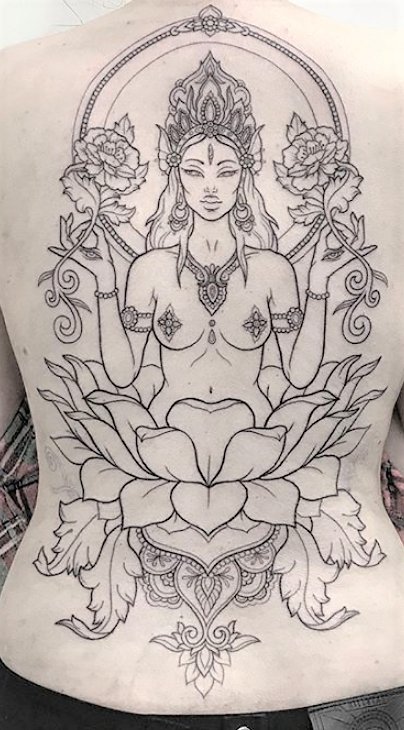 "I got my first tattoo at 41, and now 2 years later I have 5! I wanted one since I was a teenager but always worried about what other people might think. When I reached my 40s, I finally decided that I didn't care what they think, and now I love my tattoos – I've got more planned!"
I got a 'D-12' (Eminem's band) tattoo when I was 17. I'm 35 now and it makes me laugh every time I see it. What was I thinking?! 
I have four tattoos and love them all. They represent specific times of my life. I have a feather and flying birds tattoo on my right rib from when I finally rid myself of my abusive ex. Each bird stands for someone that really helped me get away from the situation and I asked each one of them to pick the colour of their specific bird. That tattoo makes me feel happy. 
An Albert Einstein quote on my back when drunk in Magaluf is probably one of the craziest things I've done. I also have dad on my wrist which I absolutely hate as it's a botched job but I also love it because I got it done when I was a teenager after my dad passed away. My favourite tattoo is my sea turtle tattoo, my partner and I have matching ones and it really means a huge amount to me.
Let me know in the comments about your tattoo stories, I love to read them.